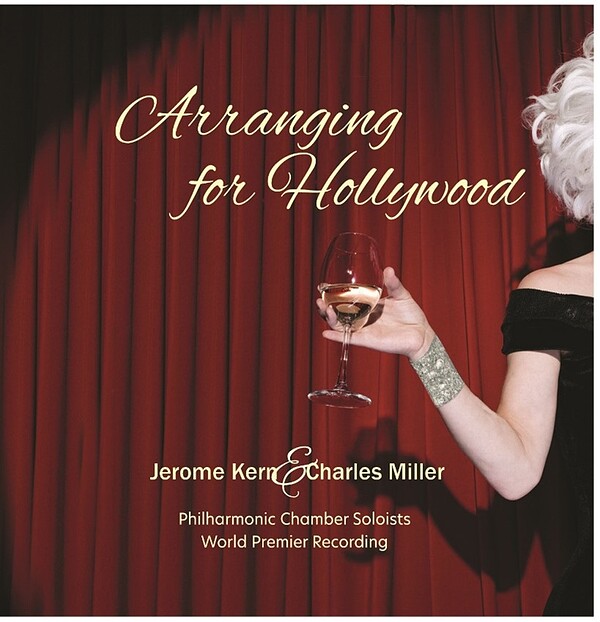 Arranging for Hollywood
Arranging for Hollywood
Jerome Kern & Charles Miller
Philharmonic Chamber Soloists is thrilled to announce the upcoming release this historic CD. These string quartets were recently discovered in Michael Feinstein's ' American
Songbook ' archives and have never been published or recorded until now!
You are among the first to hear them!

This music takes you back to the glamour of Hollywood and Broadway of the 1930's and 40's. Along with PCS's previous release 'Strings in Swingtime' on Bridge Records, this world premiere recording completes the set of all twelve Jerome Kern Songs composed by Charles Miller – Kern's legendary Hollywood arranger. Below is an advance listening of the album.

♪ The Night Was Made for Love (6:31)
♪ 'Twas Not So Long Ago (5:03)
♪ Till The Clouds Roll By (5:01)
♪ I'm the Echo (7:16)
♪ The Siren's Song (3:48)
♪ They Didn't Believe Me (6:40)

Philharmonic Chamber Soloists String Quartet
Anna Rabinova, 1st Violin
Fiona Simon, 2nd Violin
Katherine Greene, Viola
Alberto Parrini, Cello

Recording Engineer – David Miller
Producer – Thomas Z. Shepard
Recorded at Bridge Studio's – Brooklyn, New York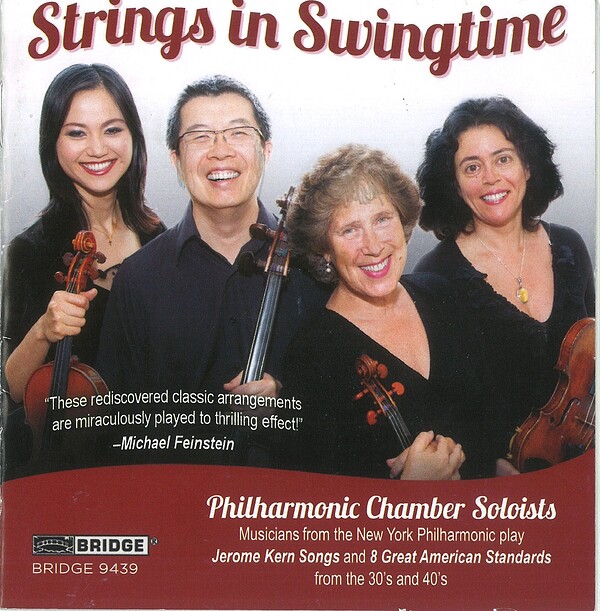 Strings in Swingtime
Bridge Records Bridge 94
Philharmonic Chamber Soloists present a historic re-recording of the 1942 Decca release of six original songs by Jerome Kern masterfully arranged for string quartet by Hollywood arranger Charles Miller. Also on this album are eight magnificent selections from the American Songbook arranged in the 1940's by Vladimir Selinsky for his NBC radio show "Strings in Swingtime". This is the first
time these arrangements have been recorded; in addition to string quartet, guest artists from the New York Philharmonic on bass, harp and vibraphone are featured.
Song list is the same.
Philharmonic Chamber Soloists
Anna Rabinova, 1st Violin; Na Sun, 2nd Violin;
Katherine Greene, Viola; Qiang Tu, Cello;
David Grossman, Bass; Nancy Allen, Harp;
Erik Charleston, Vibraphone
Jerome Kern - Six Songs arranged for String Quartet by Charles Miller:
The Song is You
Once in a Blue Moon
All the Things You Are
The Way You Look Tonight
Smoke Gets in Your Eyes
Bill
Eight Popular Songs Arranged for String Quartet by Wladimir Selinsky:
Blues Serenade (Frank Signorelli)
So Rare (Jerry Herst)
Mood Indigo (Duke Ellington)
Sophisticated Lady (Duke Ellington)
Sweet Sue (Victor Young)
Apple Blossoms (Joe Venuti)
Honeysuckle Rose (Fats Waller)
Solitude (Duke Ellington)
"Long Ago (and Far Away)" (Ira Gershwin and Jerome Kern), arranged by Paul Schwartz
BRIDGE 9439